Posted under:
Root Canal
Posted on: November 19, 2020
Invisalign: Frequently Asked Questions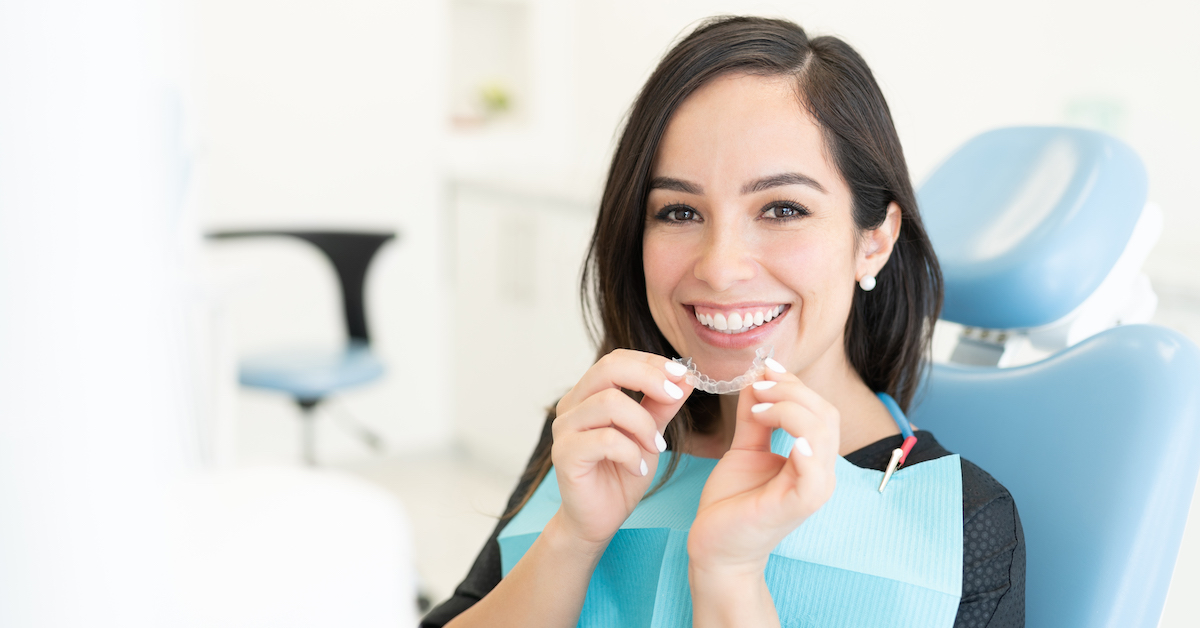 Having crooked or otherwise misaligned teeth can negatively impact your self-esteem. It can also lead to a variety of oral health problems in the future. If you've been told that you need orthodontic treatment, but are also self-conscious about having to wear metal braces, Invisalign may be an alternative form of treatment that you can pursue.
How Does Invisalign Work?
Invisalign is an exciting type of orthodontic treatment that involves clear aligners that are placed in the mouth much like a retainer. These nearly invisible aligners are changed out periodically and gradually shift the teeth into their ideal alignment. The company that makes Invisalign utilizes a flexible form of plastic called SmartTrack®. Along with being effective, these aligners are also comfortable to wear. They also allow you to receive orthodontic treatment without it being as conspicuous as it is when wearing traditional wire-and-bracket braces.
Who Can Benefit From Invisalign?
Patients who are teenagers or adults are typically the best candidates for Invisalign. This system of aligners works to treat crowded teeth, gapped teeth, overbites and underbites. More severe issues may require that you receive a more traditional form of treatment such as wearing headgear or metal braces.
You should consider the following questions if you're interested in Invisalign treatment:
Has your jaw stopped growing? Younger teenagers and small children still have teeth and jaws that are growing and changing, which typically makes them unsuitable candidates for this type of treatment. The frequent changes happening within their mouths makes it difficult to create effective aligners for the length of time that treatment will take.
Will you remember to put the aligners back in after taking them out? Sticking to your treatment schedule is an important part of using Invisalign. While it's definitely a benefit to be able to take the aligners out, you need to be sure that you wear them between 20 to 22 hours per day in order for them to work. If you believe you'll have difficulty remembering to put them back in, a more traditional form of treatment may be the better option for you to pursue.
Do you want your orthodontic treatment to be discreet? This isn't always an important factor for patients. However, if you find it important, then you may be interested in pursuing Invisalign aligners.
Of course, only a dentist or orthodontist can determine whether Invisalign is the right kind of treatment for you. Get in touch with our office in order to receive a consultation where you can voice any concerns, ask questions and become more educated about orthodontia.
What Is the Process for Invisalign?
In order to receive Invisalign, you first have to visit a dentist who has been trained in delivering orthodontic treatment with this system. If your dentist decides that you're a viable candidate, he or she will create a custom treatment plan that will help you to reach your orthodontic goals.
Your dentist will then make an impression of your teeth that will be used in fabricating your aligner system. You will be given multiple sets that you will switch out every week or two as the teeth slowly move into their proper alignment.
Many patients finish their treatment within 12 to 18 months. The extent of your issues and how well you comply with your dentist's recommendations will determine the exact amount of time that you will need to undergo treatment. You will most likely need to come into the office for a progress check once every four to six weeks. Many people find that they begin to see results within a few weeks of beginning their Invisalign treatments.
Will Invisalign Treatment Affect My Daily Life?
Many patients love their Invisalign aligners because they aren't limited on what they can eat or drink. This is because the aligners are able to be removed. You'll also take your aligners out whenever you brush your teeth. Most dentists advise that you not chew gum or smoke while undergoing treatment with Invisalign.
Each time you change aligners, you will probably feel a bit of pressure for a few days. This is perfectly normal and it's generally less pressure than what you would feel if you were receiving orthodontic treatment via traditional metal braces.
Since the materials utilized in making Invisalign aligners are pliable and made to fit the exact contours of your mouth, you will find that your speech isn't impacted at all when wearing the aligners. You may experience an adjustment period for a few days after receiving your first aligner. However, once that period of time has passed you should be back to speaking normally.
Invisalign aligners are less noticeable than traditional orthodontic treatments. While they aren't totally invisible, most people won't be able to tell from a distance that you're wearing them. It is possible for someone up close to notice that you have them in, but the aligners are nowhere near as conspicuous as other forms of treatment. If you're in a situation where you don't want someone to notice that you're wearing them, you can always take the aligners out for a few hours.
What Happens When I Finish My Invisalign Process?
At the end of the treatment period you will be able to pop your aligners out for the last time. Your dentist may recommend that you utilize retainers so that your teeth don't shift out of place again. Our office can assist you in finding the right retainer to meet your needs.
Where Can I Go to Receive Invisalign Treatment?
In order to receive this innovative type of orthodontic treatment you will need to see a dentist who has undergone training in Invisalign aligners. To book a consultation with our highly experienced team, give our office a call today.