Posted under:
Root Canal
Posted on: October 7, 2021
Understanding Sensitive Teeth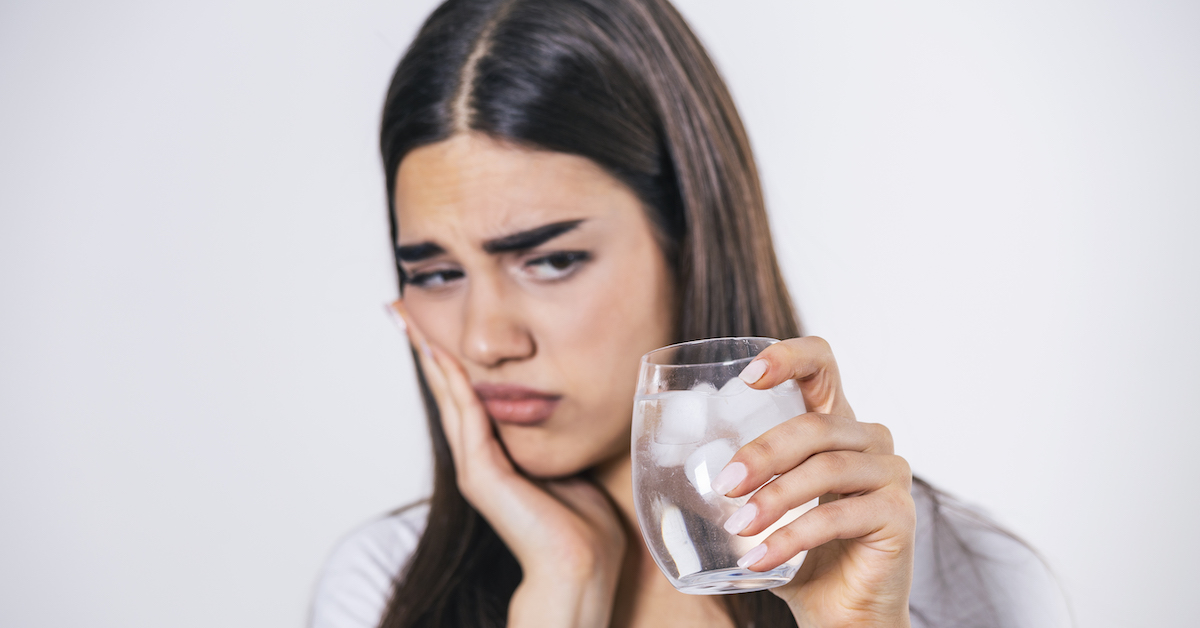 If eating certain foods or breathing cold air makes your teeth hurt, you may have sensitive teeth. It's a very common condition, but it's easily treatable and easy to prevent with a few lifestyle adjustments.
It's no fun to be unable to eat the foods you enjoy or do the outdoor activities that make you happy and keep you healthy. Even necessary tasks like brushing and flossing can be painful for you, but you have to do them to keep your mouth healthy. When you understand the cause of your sensitive teeth, you'll be better able to treat and prevent it, and you may be able to reverse any damage that's been done.
Usually, tooth sensitivity occurs due to erosion of the tooth enamel, which exposes the root. However, it can also occur from a cracked or chipped tooth, aggressive brushing habits, receding gums, and periodontal disease. All of these can expose the nerves that are contained within your tooth roots. When the roots contact certain substances, you feel sharp pain.
If the cause of your sensitive teeth is exposed nerves, then desensitizing toothpaste may help you. Desensitizing toothpaste differs from toothpaste for sensitive teeth because it decreases the pain signals that go from your nerve endings to your brain, so you should notice an improvement within a few days. If you have receding gums, your dentist may recommend a gum graft and a procedure to treat the gum inflammation. A sealant may effectively block irritants from reaching the tooth nerve, but if none of these are effective, then your dentist may recommend a root canal. A root canal will remove the root and the nerve from your tooth. The tooth hull will then be covered with a dental crown, also called a dental cap. This will restore functionality to the tooth and eliminate the pain.
Are Sensitive Teeth Caused by Particular Conditions?
Tooth sensitivity can occur due to several causes, such as:
Alcohol or other ingredients in your dental care products that can cause pain. Switch to products that are formulated for sensitive teeth, but don't avoid using mouthwash. It can remove residual bacteria from your mouth, so it should be an integral part of your oral hygiene routine.
A filling has failed, and you notice decay around the base of it. If this happens, make a dental appointment without delay. Usually, replacing the filling will resolve the issue.
Bruxism, or grinding your teeth at night, can erode your tooth enamel. Order a custom nightguard from your dentist to alleviate the problem. Don't buy one from your local pharmacy, though, because it probably won't fit well, and you'll not wear it.
A cracked or chipped tooth can cause pain as well as allow bacteria inside the tooth and then decay will start. If you notice a chip or crack in one or more teeth, make a dental appointment immediately so that the condition doesn't escalate.
Acidic foods and beverages can cause pain when the acid contacts the tooth nerve, so avoid acidic substances like citrus fruits and beverages, pickles, tomatoes, and iced coffee until you can resolve the issue.
Whitening ingredients in your toothpaste and mouthwash can cause tooth pain, so switch to a whitening formulation for sensitive teeth. Don't avoid using mouthwash, though, because mouthwash can remove residual bacteria and help your mouth be healthier.
Recent dental procedures can cause your teeth to become sensitive, but the condition should abate within a few days. If it doesn't, make a dental appointment because you may have developed an infection.
Brushing too hard or using a hard-bristled toothbrush can damage your tooth enamel. Switch to a soft-bristled toothbrush and use gentle pressure when brushing.
Receding gums can expose your tooth nerves, so your dentist may recommend a gum graft to cover the nerves and a procedure to treat your gum inflammation.
Don't dismiss your sensitive teeth as inconsequential. They can indicate serious health issues, so you should schedule a dental appointment without delay.
Are There Ways to Fix Sensitive Teeth?
The most important step in your oral hygiene should be regular dental checkups. Twice yearly is best, but an annual exam should be a minimum.
Be diligent and consistent with your oral hygiene routine.
Use toothpaste and mouthwash specifically formulated for sensitive teeth, and use a soft-bristled toothbrush and gentle pressure. Look into desensitizing toothpaste, which isn't the same as toothpaste for sensitive teeth. Desensitizing toothpaste will protect the nerve endings, which will decrease your pain. After a few applications, you should notice a decrease in the amount of pain you experience.
If you have bruxism, get a custom mouth guard from your dentist to protect your tooth enamel. A mouth guard from your corner pharmacy won't be as effective because it will be less comfortable, and you will not wear it.
Avoid acidic foods and beverages because they'll exacerbate your pain.
Use toothpaste and mouthwash that contain fluoride to strengthen your tooth enamel. Whether you use dental products that contain fluoride or you have fluoride applied directly to your teeth, it will strengthen your tooth enamel and lessen your pain.
Ask your dentist about a gum graft that will cover the nerves in your tooth, particularly if your dental pain is due to receding gums from periodontal disease.
When you know how to help your sensitive teeth, you can avoid foods and activities that cause pain while improving your lifestyle. If you eat or drink something acidic, then rinse your mouth with plain water as soon as you can. Nothing can replace the expertise of your dentist.
Practice good dental hygiene that includes regular dental checkups and using the proper dental products. If you have questions about your dental hygiene routine, ask your dentist. You can resume your active lifestyle and eat and drink your favorite substances without pain. With proper hygiene and maintenance, your teeth will last throughout your life without the pain, expense, and inconvenience of artificial teeth.